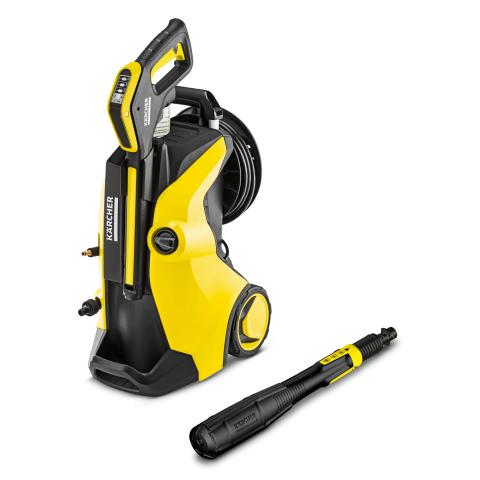 With the K 5 Premium Full Control Plus including hose reel, you can effortlessly find the right pressure for every surface. The spray type is very easy to adjust by turning the 3-in-1 Multi Jet spray lance. The pressure level can be checked using the LCD display on the spray gun and adjusted using the +/– buttons – for maximum control. This means that it is not necessary to change the spray lance – even when switching from high-pressure mode to detergent mode. In the event of short breaks, you can also easily stow the spray gun and spray lance. An extendible telescopic handle enables the device to be pulled along conveniently and stored so that it takes up less space. And the practical Plug 'n' Clean system means you can change the detergent in one quick and easy step, seeing the filling level at a glance. The pressure washer impresses further with a lower centre of gravity and a practical hose guide, as well as a stand that lends the device greater stability and can also be used as a second carrying handle. The pressure washer is ideal for frequent use on stubborn dirt and for an area performance of 40 m²/h.
Features
Power gun Full Control Plus
With buttons for pressure regulation and detergent dosing.
The LCD display on the Full Control Plus Power trigger gun enables users to easily check the setting they have applied.
3-in-1 Multi Jet spray lance
Easily switch between flat spray, rotary and detergent nozzle by turning the spray lance.
Plug 'n' Clean
Quick, easy and convenient application of detergents with the pressure washer.
Kärcher detergents increase efficiency and help protect and care for the surface being cleaned.
Hose reel
With a practical reel, the high-pressure hose can always be stored neatly.
Telescopic handle
Made of high-quality aluminium.
For a convenient pulling height.
Completely retractable for optimal storage.
Parking position keeps accessories stowed tidily at all times
The Full Control Plus Power trigger gun and the connected spray lance can be stored conveniently in the device during work breaks.
The Full Control Plus Power trigger gun is always ready to hand and easily accessible.
Once work is complete, the Full Control Plus Power spray gun and the spray lances can be stored on the device to save space.
Quick Connect System
The high-pressure hose is quick and easy to click in and out of the device and trigger gun.
Scope of Supply
A3/4" garden hose connector adapter
Quick Connect on the side of the device
High-pressure hose, 7,5
High-pressure spray gun, G 180 Q Full Control Plus
High-pressure hose reel
Integrated water filter
Water-cooled motor
3-in-1 Multi Jet
Detergent application via, Plug 'n' Clean system
Telescopic handle