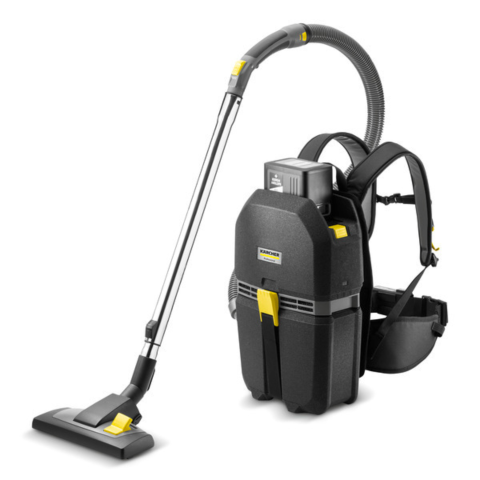 Features
Ultra-light cordless backpack vacuum
Manufactured from extremely light, innovative EPP (expanded polypropylene).
Enables ergonomic work.
Allows effortless transport.
Highly innovative EPP (expanded polypropylene)
Especially robust and extremely long-lasting.
Ultra-light.
Extremely eco-friendly, as it is 100 per cent recyclable.
Great ergonomics
Carrying frame extremely comfortable even when using for longer periods of work.
Control panel on the waist strap enables easy control of all functions.
The suction hose can be connected differently for right-handed and left-handed people.
Brushless EC motor
High wear resistance and long lifetime.
Allows long periods of use and increases efficiency and productivity.
Complete flexibility within the Kärcher 36 V platform
Battery can be quickly changed to other machines as needed.
Increases productivity and safety while working.
eco!efficiency mode
The eco!efficiency mode reduces the energy demand and volume of the machine and increases the battery running time.
Scope of Supply
Battery charger, 36 V Battery Power+ quick charger (1 pc.)
Battery, 36 V/6.0 Ah Battery Power+ battery (1 pc.)
Filter bag, 1
Filter bag, Fleece
Crevice nozzle
Upholstery nozzle
Suction hose, 1
Suction hose, Plastic
Suction hose, with bend
Protection class, II
Telescopic suction tube
Combi floor nozzle
Variant, Battery and charger included
Description
Our ultra-lightweight, powerful and battery-powered backpack vacuum BVL 5/1 Bp Pack is the first vacuum cleaner which, thanks to the innovative EPP material, weighs only < 4.6 kg (carrying weight on the back) and whose material properties make it ultra-robust as well as durable. Whether in the cinema, in a plane, on buses and trains, for office cleaning or even on stairs, the powerful backpack vacuum cleaner with a container capacity of 5 litres makes full use of its advantages for cleaning tasks in the narrowest of spaces. Here, the powerful Kärcher Battery Power+ battery ensures long running times and an output of 500 watts from the low-wear, brushless EC motor. The ergonomic carrying frame of the backpack vacuum cleaner guarantees work without tiring. Thanks to the practical control panel on the waist strap for controlling all important operating functions and additional features, the BVL 5/1 Bp Pack can be operated effortlessly and in an extremely user-friendly manner. Various accessories are included as standard – the powerful Kärcher Battery Power+ battery, the compatible fast charger and a tear-resistant fleece filter bag. A highly effective HEPA-14 filter is also available as an optional extra.
Applications
Perfectly suited to cleaning in planes, buses and trains
Ideal in hotels and restaurants, in retail, in cinemas or theatres
Convenient for building service contractors in offices, in hallways and on stairs
Technical specifications
Battery platform: 36 V battery platform
Container content: 5 l
Sound pressure level: 65 dB(A)
Air flow: 40 l/s
Rated performance: 500 W
Vacuum: 223 / 22.3 mbar / kPa
Standard nominal width: DN 35  
Battery type: Removable lithium-ion battery
Voltage: 36 V
Capacity: 6 Ah
Number of batteries required: 1 Stück
Performance per battery charge: ca. 150 (6.0 Ah) / ca. 200 (7.5 Ah) m²
Runtime per battery charging: eco!efficiency mode: max. 50 (6.0 Ah) / Power mode: max. 22 (6.0 Ah) / eco!efficiency mode: max. 64 (7.5 Ah) / Power mode: max. 30 (7.5 Ah) min
Battery charging time with fast charger 80%/100%: 44 / 68 min
Charging current: 6 A
Power supply for battery charger: 100 – 240 / 50 – 60 V / Hz
Weight without accessories: 5 kg
Weight incl. packaging: 8.8 kg
Dimensions (L x W x H): 220 x 320 x 510 mm
Dimensions
9 × 13 × 20 in