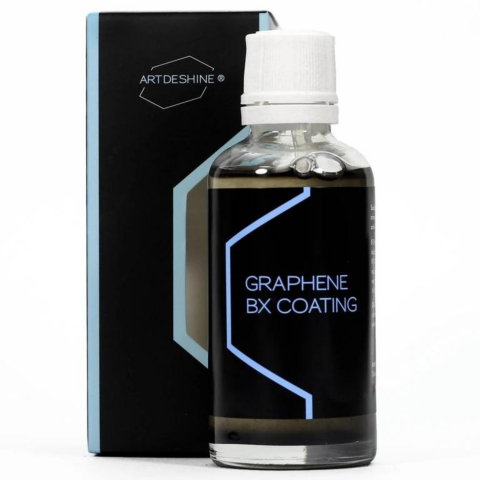 Made to meet the rising demands of "prosumers" eager to work with a coating product containing reduced Graphene Oxide (rGO) otherwise found only in our Nano Graphene Coating. 
A fuss-free and user-friendly all surface use product for any installer, professionals or enthusiasts. Using rGO technology to ght o corrosion and water-spotting issues.
Graphene BX makes use of special polymers that boasts an ultra slick surface with great self cleaning properties while enhancing the gloss and refectivity of paint surfaces. 
Water Repellence Contact Angle : 110° - 120° . In order to achieve the best shine and protection, ArtDeShine formulates and manufacture specialized automotive care products that cannot be found elsewhere. 
Graphene in its simplest form, at just one atom thick, is the lightest, strongest and thinnest material known to man. Its excellent properties make it a desirable substance to be incorporated into car coatings. While Graphene might seem perfectly suited for such applications, it is not an easy substance to work with and requires special techniques for it to disperse evenly in a liquid - absolutely required for it to be used effectively as a coating.
ArtDeShine is the first automotive care products brand to successfully harness the benefits of Graphene applied as a surface protection coating that exhibits enhanced tensile strength, durability as well as flexibility.
ArtDeShine's Nano Graphene coating is also extremely capable at reducing heat absorption, the main cause of ugly water etching spots that ruin the surface of your paint.  It is also corrosion and chemical resistant, protecting your paintwork from bird droppings, tree sap, dead bugs and other harsh chemicals.
This is a made-easy to apply consumer-grade graphene coating.  Strong waterspot prevention, rapid heat dispersion, reduced surface temperature, corrosion and chemical resistance.  Reduced graphene oxide and Polydimethylsiloxane are combined in this product to reduce surface temperature and disperse heat quickly.  The cooler surface reduces the effects of water etching, corrosion and harmful chemical reactions. Enhanced tensile strength, durability and flexibility.

Even when stretched in its one-atom-thick form, graphene does not tear due to its high tensile strength.  WIth polymer (PDMS) coatings already highly tensile, durable and flexible when absorbing daily wear and tear, the addition of graphene oxide reinforces these properties.
Low surface friction, high slickness and abrasion-resistant.
A smooth surface reduces friction, thus lowering the amount of force created by abrasive actions that can otherwise cause fine swirls and scratches.  This results in significantly less damage caused during washing and drying.

**Bottle does not come with applicators, you'll need to purchase them separately.**
Instructions:
Shake well (important), then apply enough products that'll create a fine oily film on a 2x2 ft section.
Must be applied in a shaded cool area.
Let it set for no longer than 20 seconds, then wipe off.  
If the ambient temperature is too hot and streaking starts to occur, either use the coating again on the area and wipe off right away (it uses the solvents to take the high spots off), or use a damp towel to remove streaks then buff with a dry towel.
Cures in 24~48 hours, layerable in 4~6 hours.